Our Staff
Dr. David Evans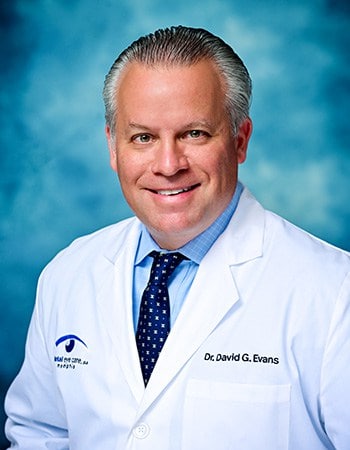 Dr. David Evans graduated from Southwest Baptist University in 1990, earning his B.S. in biology followed by his Doctorate of Optometry from Southern College of Optometry in 1994. Dr. Evans is currently an active member of the American Optometric Association, the Tennessee Optometric Association, and the West Tennessee Optometric Society. He has held office as the Vice-President of the West Tennessee Optometric Society in 1997, President of the West Tennessee Optometric Society in 1998, and Trustee of the Tennessee Optometric Association (1999-2002).
Dr. Evans has received many awards including the T.O.A Young Optometrist of the Year Award (1997), Bausch & Lomb Practice Initiation Award (1994), Designs for Low Vision Award (1994) and Outstanding Senior Clinician Award (1994). Dr. Evans has played a key role in a number of investigational research studies with Alcon, Ciba Vision, Pharmacia & Upjohn, Otsuka, Inspire Pharmaceuticals, Santen Incorporated, and Allergan.
---
Dr. Eugene McLaurin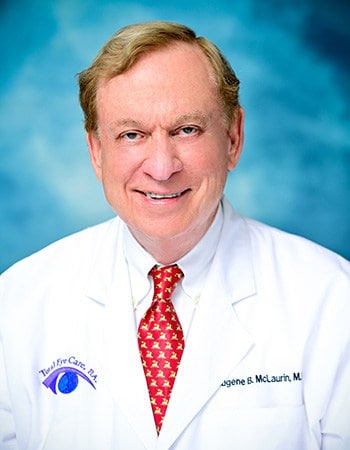 Dr. McLaurin received his B.S. from the University of Mississippi in 1971 following which he obtained his M.D. at the University of Mississippi Medical School in 1973. After his internship, Dr. McLaurin served as a U.S. Navy Flight Surgeon. He then completed his residency at the Oakland Naval Hospital and University of California at San Francisco in 1980.
He served in the U.S. Navy from September 1974 to June 1981 and began practicing at the Amory Eye Clinic in August of 1981. In 2003, Dr. Mclaurin joined the Total Eye Care, P.A. team of physicians. Dr. McLaurin was the very first refractive surgeon in Savannah when he performed his first RK in 1985. He now uses his own VISX Laser to perform Laser Vision Correction. Dr. McLaurin is also trained on the Summit Autonomous Laser. He was one of 13 physicians that utilized the Hollis Eye Institute and together in 1999 there were over 3400 Laser Vision Corrections performed at the institute. Dr. McLaurin also has extensive experience with Selective Laser Trabeculoplasty (SLT). SLT is one of the greatest advances in the surgical treatment of patients with open angle glaucoma.
Dr. McLaurin is a member of several professional associations, including:
American Medical Association
Fellow American Academy of Ophthalmology
Cordes Eye Society
Diplomat, American Board of Ophthalmology
Fellow, American College of Surgeons
---
Esther Evans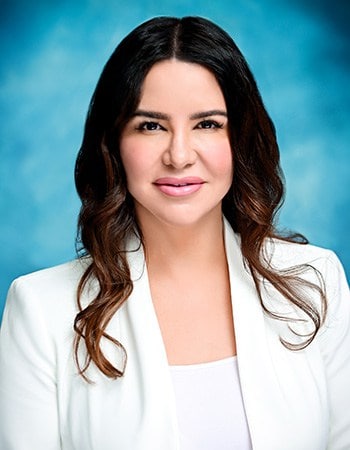 Esther Evans is the practice administrator for Total Eye Care, PA. She attended City University of New York and received a degree in ophthalmic dispensing from New York City Technical College. She has been in the eye care business for over 25 years and is involved in making recommendations for patients that require specialty vision correction.
Esther has also volunteered with the World Cataract Foundation – a non-profit organization whose mission is to eliminate cataract blindness in many parts of the world. She has served as a translator for surgeons on previous trips to Mexico and Cuba. David and Esther is live in Germantown, Tennessee and they have three sons – Houston, Matthew and Garrett.
---
Dr. Don Gayso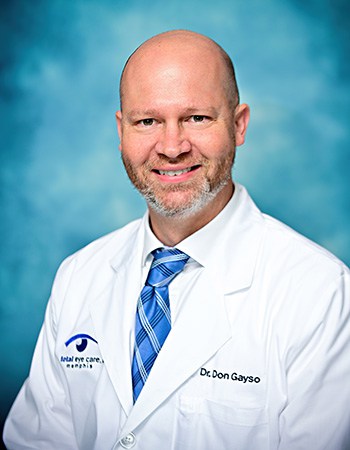 Dr. Don Gayso received his B.S. from the University of Memphis in 2000, graduating magna cum laude. In 2005, he received his Doctorate of Optometry from Southern College of Optometry. Dr. Gayso is licensed as a Therapeutic Optometrist through Tennessee Board of Optometry.
In 2005, Dr. Gayso received the Low Vision Excellence Award. He currently works with patients suffering from visual impairments in the Low Vision Center at Total Eye Care. "I am very passionate about helping those individuals that suffer from low vision. I think it is unfortunate how many people do not know about all the new technology that is currently available for those with vision loss." He is a current member of the American Optometric Association, West Tennessee Optometric Society, Tennessee Optometric Association, and Sports Vision Society.
---
Dr. Brandon Rushing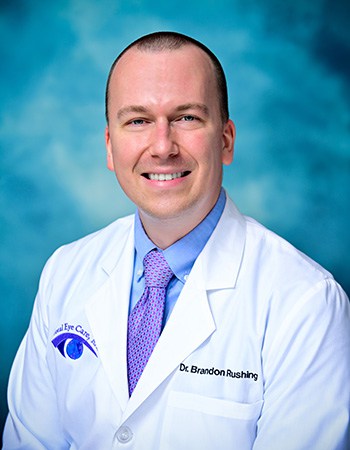 Dr. Brandon Rushing is an Optometrist with specialty training and expertise in the fields of vision health, refractive error correction, and low vision care and therapy. Dr. Rushing earned his Doctor of Optometry (OD) degree from the Southern College of Optometry and has been in practice since 2014.
Dr. Rushing is a valued member of the Total Eye Care team assisting in the examination, diagnosis and treatment of a variety of eye health issues.
---
Dr. John Linn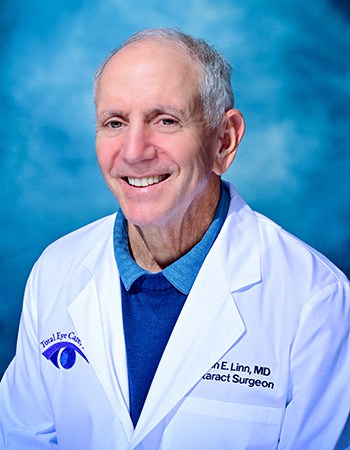 Dr. John Linn, a Chicago native, received his undergraduate and medical degrees from Vanderbilt University. He completed his residency training in ophthalmology at the Eye Foundation Hospital in Birmingham,Alabama. He also completed a retinal fellowship at the Vitreoretinal Foundation in Memphis, Tennessee.
Dr. Linn served as Clinical Assistant Professor of Ophthalmology at the University of Tennessee College of Medicine. His professional memberships include the American Academy of Ophthalmology, the American Society of Cataract and Refractive Surgery, the Retina Society and the American Medical Association. He is board certified in ophthalmology. Dr. Linn's special interests include the medical and surgical management of vitreoretinal pathologies, glaucoma and cataracts, as well as refractive surgery. He has served as the director of the VRFESG Fellowship Training program and has participated in a number of clinical trials, including the landmark DCCT study, one aspect of which he designed.
---